The folks at Habitat for Humanity were pleased, and maybe a little surprised, when 20 Stockton area members of Sisters in the Brotherhood—and a group of supportive brothers—showed up at a property on the south side of Stockton to build a house. It was, after all, the Saturday before Father's Day and 108 degrees.
But they came: for the union, for the community, and for the experience.
"It's pretty amazing to know that you are part of building someone's dream house for them, that's fantastic," said Salena Durell, a Local 152, first-period apprentice. Many of the participants were apprentices; recent graduates of the YouthBuild Futures Academy pre-apprenticeship program.
The carpenter volunteers, who braved the heat to roll trusses and frame up the roof on a 3-bedroom house just east of Highway 99, ranged from first-period apprentices to Raymond Raya, a Local 713 retiree with 30 years in the industry, who was "happy to help out the Sisters," he said. "You've gotta do what you've gotta do."
The turnout in a heat wave "was really surprising, and it was really gratifying to see them jump in and do what was necessary. We were really happy with what they did," said Georg Koertzen, the local Construction Superintendent for Habitat for Humanity. "Most of the work is pretty straightforward, but we do a lot of stuff to make the homes more energy efficient. It's a teaching moment as well."
Habitat is building all 19 homes in the subdivision, Koertzen said, "so there's a lot more work to do. We'll need all the help we can get."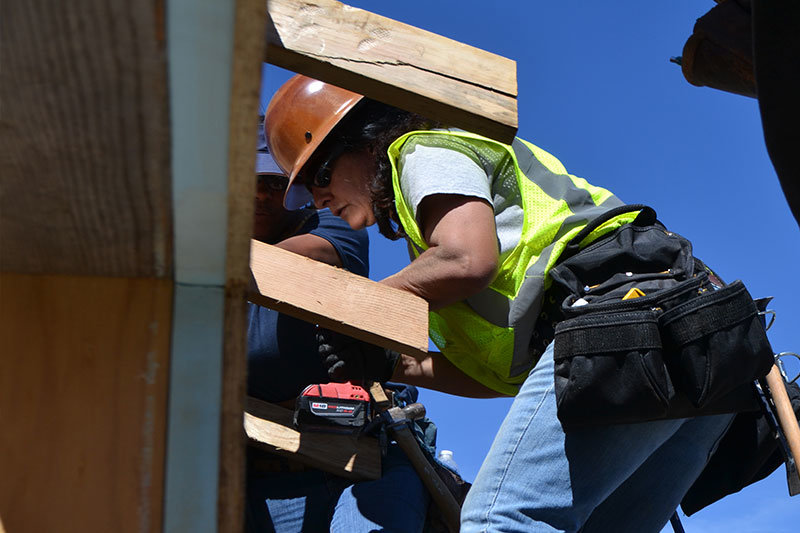 Local 46 apprentice Nunila Gutierrez was one of 20 Sisters, with a few Brothers, who spent a recent Saturday at work on "someone's dream house" in Stockton, a Habitat for Humanity project.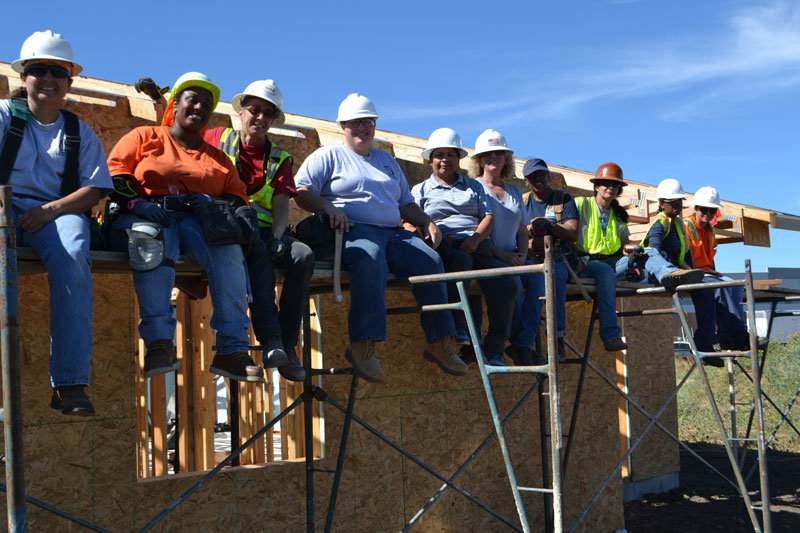 Here are most of the members of the "Dream Team" that spent Saturday, June 17, building a new home in Stockton for Habitat for Humanity: from left, Patricia Ramirez, Local 405; Salena Durell and Leslie Linstroth, both Local 152; Melissa Magness, Local 46; Lisa Vigil and Susan Rodriguez, both Local 152; Janet Staples, Nunila Gutierrez and Sheena Williams, all Local 46; and Arlene McNaul, Local 152. Not shown: Justin Leos and Raymond Rivera, Local 152; Raymond Raya, Local 713 (ret.); and Local 152 Field Representative Eugene Morse.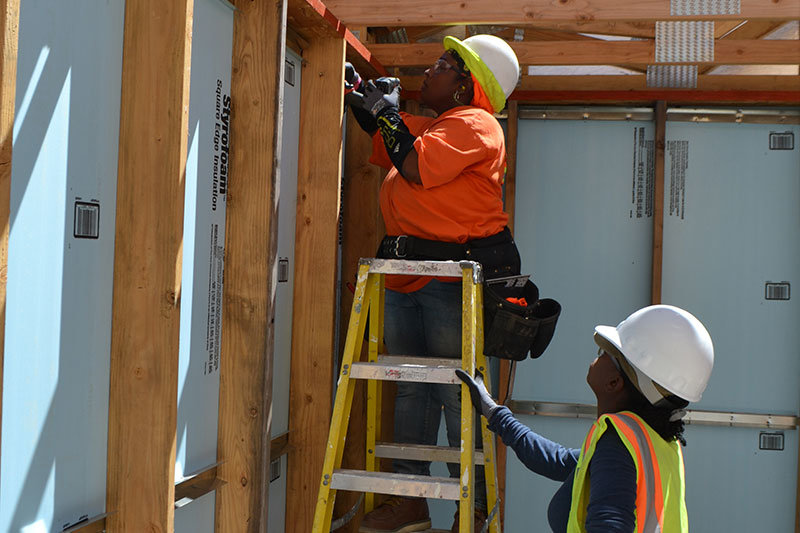 Sheena Williams, Local 46, steadies the ladder for Salena Durell, Local 152.