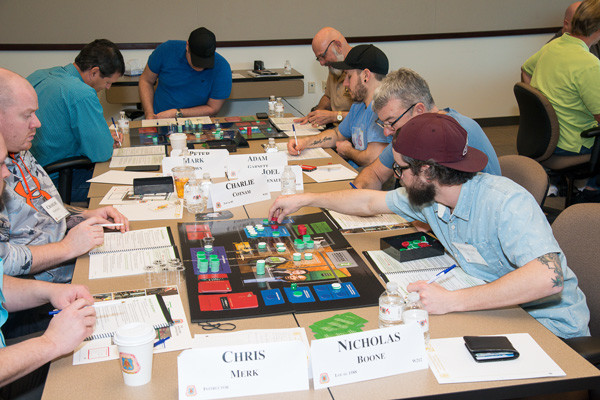 In late 2017, the UBC's Department of Education and Training piloted a new program in their Leadership Development series: The 212 Journeymen: Next Level UBC Leaders program. This program works towards the goal of developing the "Total Professional" and brings participants who have successfully completed the UBC Journeymen: Building Leadership for a Strong future program back to the ITC for four intensive days of Leadership training. Specifically designed for those members who have embraced the key principles of the UBC Journeymen program, 212 Journeymen is designed to take leadership to the next level.
Since its first session November 30, 2017 through the end of May 2018, 556 members have completed the 212 Journeymen: Next Level UBC Leaders program, with a projected 2,100 additional participants scheduled to attend training by the end of the year. After attending the program, James Hilliard with Local 2232 said, "It's been a great program, something we've needed for many, many years. I think the timing is perfect."
In order to be considered, candidates must have committed to utilizing the skills learned in the UBC Journeymen: Building Leadership for a Strong Future program and embraced the characteristics of a Transformational Leader as active members of the UBC workforce. Participants should be those who are truly "Next Level Leaders," members who consistently coach, mentor, and motivate others, while taking on a leadership role on the jobsite, along with actively promoting a constructive culture.
With a focus on constructing and building UBC relationships on the jobsite, this new DET program introduces participants to business finance cause and effect, emotional intelligence for UBC Leaders, adult learning principles, and how to manage healthy conflict. This key learning helps to drive home the importance of Constructive Culture and Transformational Leadership on the jobsite; ensuring the UBC's future is strong and secure for generations to come.
"I've learned there is much more I have to offer in order to make, not only my Local but just people in general, to be successful and productive in this line of work that we are in; I have to start with myself", said Damarquis Blow with Local 551 in Houston, Texas.
To learn more about the new 212 Journeymen program, CLICK HERE.