COVID Awareness Course Numbers Pass 50,000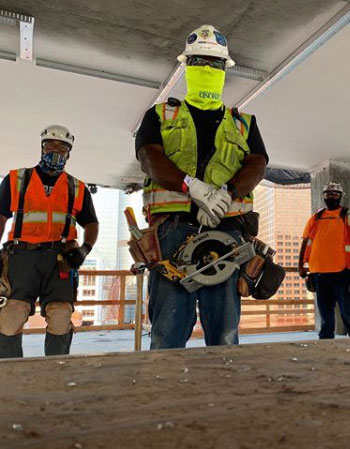 The COVID-19 pandemic continues to challenge all of us, but construction work continues—and members are in high demand on projects of all kinds, thanks to the impact of UBC training.
The Carpenters International Training Fund (CITF) recently announced a milestone in its effort to keep UBC members safely on the job during the pandemic: more than 50,000 members have taken CITF's COVID-19 Preparedness Qualification course. Across the U.S. and Canada, the course is helping keep jobs open and members working steadily.
About half the participants have taken the course online through the CITF's Learning Management System (LMS), while half have taken it in-person at regional training centers, using social-distance and safety protocols.
The course has been so successful that the CITF recently launched a second course, the Pandemic/COVID-19 Preparedness and Response Supervisor Course. This new course goes a step further in giving members tools to prepare for and take specific precautions at their jobsites. The course helps participants apply hazard identification and assessment tools and processes to jobsites and use prevention and control strategies to protect workers.
The original COVID-19 Preparedness course has reached workers in many construction trades as contractors embraced it and required all their workers to take the course. In a number of areas, the success of the course helped show local officials that jobsites could reopen safely.
Numbers have also steadily risen among UBC members who have taken the CITF's highly regarded ICRA infection prevention courses, which help make healthcare construction projects safe for patients and staff. Since the pandemic began, the ICRA 24-hour Best Practices course and the 8-hour ICRA Awareness course have been added to the CITF's LMS. Numerous hospitals, surge facilities, COVID-19 testing sites, and other healthcare facilities have benefited by having ICRA-trained UBC members on their jobsites.
"All of us worry about keeping ourselves and our families healthy while we wait for safe, widely available vaccines that can help us return to normal," said Bill Irwin, CITF Executive Director. "But our training and our dedication to safety is keeping us and the construction industry strong during tough times. We appreciate all the work our members and regional training centers are doing to build strong and stay safe."