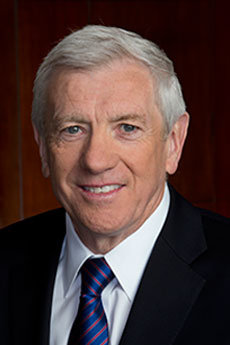 After 25 years of dedicated service on the General Executive Board of the United Brotherhood of Carpenters, District Vice President (Canada) James E. Smith ("Jim") has retired effective June 1st, 2017. A UBC member for more than 44 years, Jim Smith, excelled in his career and is highly respected throughout the brotherhood.
Jim was born in Kells, Ireland where his grandfather led the first labour strike.  Jim earned his trade certificate from the Kells Technical School and at the age of 18, he joined the Amalgamated Society of Woodworkers, an International Union. Three years later, Jim immigrated to Canada arriving in Toronto on October 6, 1969.
Jim joined Toronto UBC Local 27 and was quickly recognized as a natural leader on the jobsite. He was frequently called upon to advocate for his co-workers and never hesitated to protect their interest and his union. It was during this period that Jim saw that there was a real need for fundamental changes if the Carpenters Union was to grow and prosper for future generations of carpenters.
In 1979, Jim was elected to the executive board of Local 27 where he and a few others started to advocate for change. For example, he helped start a newsletter to better inform and educate the membership. In 1982 he was elected as a Local 27 Business Representative continuing to excel and gaining the respect of his peers and the members he served. Jim became President of Local 27 in 1985 and a short time later he became the Local's Business Manager.
Word of his tenacious work ethic and reputation grew beyond Local 27 resulting in Jim being elected president of the UBC Canada Conference and chair of the Carpenters Bargaining Conference. On the provincial and national scene, Jim became recognized as the "go to" leader who listened and solved tough problems with fairness and compassion. He was never afraid to tackle an issue head on and was known through Canada for being fearless, honest and thorough in all his dealings.
In 1992, Jim was appointed to the UBC General Executive Board (GEB) for the 9th District where he quickly built alliances with other reform-minded UBC leaders such as Doug McCarron, Doug Banes and Andy Silins. In 1995, Doug McCarron was elected General President and Jim was elected Vice President (9th District). Change became a new defining trait of the UBC.
In 1997 the two Canadian Districts (9th and 10th) were merged and Jim became UBC Vice President for all of Canada. Over the next twenty years Jim lead a remarkable and transformative era of restructuring in Canada. These changes have positioned the UBC in Canada to be the envy of other unions who failed to have the courage, determination and foresight. Once the changes were put in place Jim worked tirelessly to nurture and build a strong Regional Council system throughout Canada.
Jason Rowe, the new Canadian District Vice President, said, "Jim Smith is, was, and will be the heart and soul of the Canadian District. The Canadian District wouldn't be today what it is now without Jim Smith."
General President McCarron says of Jim, "When we met in 1991 his vision for Canada was the same as my vision for all of the UBC and we came into sync very quickly. He has made a positive difference for so many members and their families in Canada."
Upon his retirement, Jim Smith leaves behind a legacy of a strong and united Canadian District ready and prepared for the future. His leadership, friendship and way of doing business will be greatly missed and he is a great example for next generation of UBC leaders in Canada as he set the bar high.
Jim Smith was the right leader at the right time.