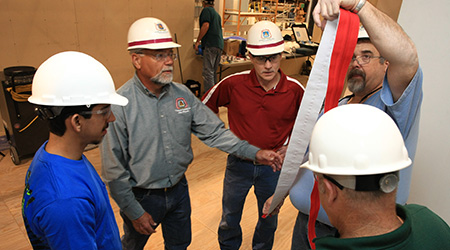 The U.S. Department of Labor (DOL) has issued a final rule creating Industry Recognized Apprenticeship Programs (IRAPs) for American industries. However, the construction industry has been carved out of the program, thanks in part to opposing comments submitted by many UBC members and contractors.
Including construction in IRAPs would have allowed non-union contractors to set up sub-par programs with lower training standards but still call them "apprenticeship programs" and even get taxpayer funding to compete with union programs. The final rule takes effect May 11 and the construction exclusion is permanent. The text makes clear that IRAPs participants are not eligible to be paid "apprentice" wages on federally funded ("Davis-Bacon") construction projects.
UBC members submitted many of the more than 326,000 comments on IRAPs—the most ever received by DOL's Employment and Training Administration. The vast majority of commenters opposed including construction in the program.
General President Doug McCarron was appointed to the White House's Task Force on Apprenticeship Expansion in early 2017 and argued against including construction in IRAPs from the beginning. Though construction was excluded early on, lobbying by anti-union groups raised concerns of its possible inclusion in the final rule.
President McCarron said, "While we recognize that other industries may want to develop apprenticeship programs that differ in form and rigor from our programs, the construction industry has very effective apprenticeship programs already in place, funded by the private sector, that are doing a great job meeting the needs of the industry."
In explaining the construction carve-out, DOL's rule states that its focus is on expanding apprenticeship into new industries and occupations, and that "The Department believes it is prudent to exclude the construction sector in light of the concerns raised by so many commenters about allowing IRAPs in that specific sector and because the construction sector in fact plainly stands out as the industry sector with the greatest existing utilization of registered apprenticeship programs."
UBC Political Director Kyle Makarios thanked members for submitting comments and writing letters to policymakers—and praised regional council leaders for encouraging members and contractors to write letters and pushing a bipartisan group of elected officials to weigh in with the Administration.