For a group of UBC members in New Jersey, an unusual project imparts special meaning to the words, "I built that."
These members of the Eastern Atlantic States Regional Council of Carpenters (EASRCC), Local 251 and Local 255, are at work at a history-making jobsite, the Battleship New Jersey, as part of a massive deck restoration project. It's all taking place exactly 80 years after the ship was first launched during World War II.
The New Jersey is the most decorated battleship to have served in the U.S. Navy, having seen action not only in the Pacific during WWII but in Korea, Vietnam, Lebanon and the Persian Gulf.
Today the Battleship New Jersey Museum and Memorial in Camden regularly ranks as one of the best museums in NJ and is one of the most entertaining family tourist attractions in the region. Its mission is to "…restore, preserve, and exhibit the continuing history of the USS New Jersey and those who worked and served on her so their service will continue to educate and inspire future generations."
Since the museum came to Camden and was turned into a museum 22 years ago, UBC members have been part of that mission, working on projects and serving on the permanent maintenance crew. Today's deck restoration team is replacing the old deck with about 43,000 square feet of new teakwood. The museum also will be hiring Local 474 commercial divers for safety and inspection purposes before the end of 2022.
Even during restoration, visitors are welcome. The museum is highly interactive and allows visitors to sit in the chair from which Admiral William F. Halsey commanded the 5th Fleet; stretch out on sailors' bunks; and climb into the 16-inch gun turret and learn how projectiles were loaded.
Recently, EASRCC Executive Secretary-Treasurer William Sproule visited the New Jersey and said, "If you haven't had a chance to take a tour, please put it on your list of to-do's. It's a hell of a project."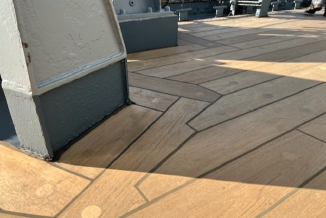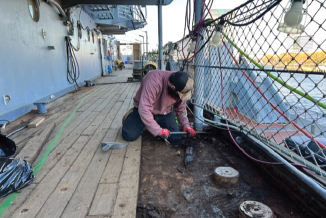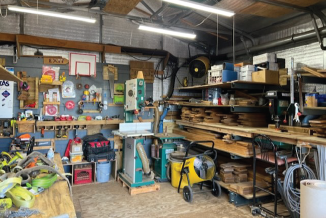 USS Battleship New Jersey Deck Restoration and Maintenance Crew Members: Locals 251 and 255
Journeypersons
Dennis McMichael, Jr.
Jay Baker
Anthony Pinzo

Apprentices
John Henry
Brent Green
Luke Myers
In addition, retired Local 255 member Dennis McMichael, Sr., was one of the ship's longtime foremen and is back onboard part-time, helping the maintenance team.