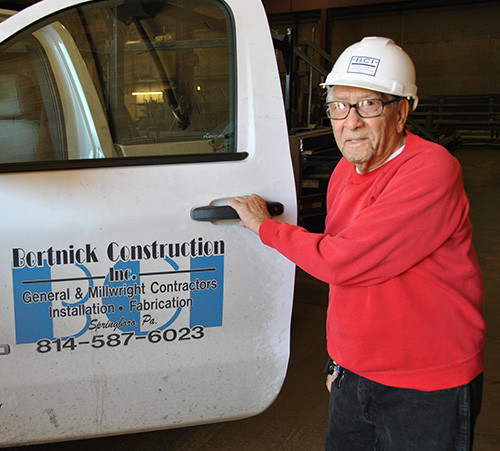 It was 1953 when James Bufalino came into hard times and needed a job paying at least $2.00 an hour. At that time, James applied for a membership card at Millwright Local Union 2235 in Pittsburgh, PA. After many applications, he was accepted and given a membership into the United Brotherhood of Carpenters and Joiners of America (UBC).
Since joining the UBC in 1955, Brother James Bufalino has been awarded a 25-year pin and a 50-year membership card. Although retired after dedicated years in the union, he had mentioned interest in going back to work again. James affirmed, "I wished for one day to go back to work at the age of 100."
On May 23rd, 2017, James turned 100 years old and his wish became a reality! He recalled, "I was at a jobsite, hardhat and safety glasses in hand, as an employee for Bortnick Construction Inc."
With James' 100th year wish fulfilled, he shared a piece of advice. "My advice to any young man or woman is an apprenticeship into the millwrights is well worth the experience and is very rewarding."
For more than 60 years of commitment to the union, the UBC thanks and congratulates Brother Bufalino.