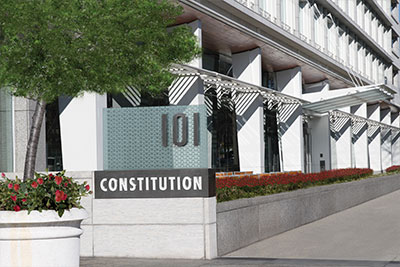 During every election season, UBC members work to help elect candidates who care about issues affecting union carpenters, our families and our communities. Political activism has been a hallmark of our union throughout our history.
Between elections, many members also take part in educating office holders on our priorities and pushing legislative issues at all levels of government.
For U.S. members, the 2020 elections are behind us, so it's a great time to learn more about how the U.S. government works and explore the laws that affect UBC members and all workers.
That's the idea behind the newest offering from the UBC's Department of Education and Training (DET).
The course is called 101 Constitution: US Government and Labor Law. It is hosted online in DET's Learning Management System, or LMS.
The self-paced five-part course includes sections on:
The US Constitution
How Laws are Made
Parties and Elections
State and Local Government
Labor Law
If you have previously taken a DET course, you can self-enroll for 101 Constitution at https://ubc-det.carpenters.org/. You will need to log in using your carpenters.org User ID and password. If you have not taken a DET course, please reach out to staff at your Council office so they can register you through the PMA.
A registration troubleshooting guide for Council staff is available HERE.