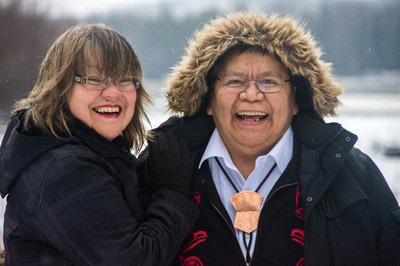 Going through airport security, most of us wish only for a short, fast line so we can get our shoes back on. Few will experience what UBC member James Morris did on the way home from Montreal in 2015—nevertheless, he is forever grateful.
"After I went through the body scanner they asked if I was carrying drugs, then they showed me the screen. There was a dark spot below my belly button," Morris said.
Less than three weeks later he was being treated for Stage 3 colon cancer. "My life screeched to a halt," Morris said.
Morris endured a round of chemotherapy and radiation, then a heavier dose of chemo. While his digestive system recovered, he had to wear a pouch for a year. His cancerous tumor had been the size of an orange before it was destroyed by the treatments.
Two and a half years later, Morris said his doctor told him he is one of the luckiest men alive. The doctor undoubtedly knew that airport security body scanners use low-level radio frequencies, not x-rays, to look for concealed objects. They are not meant to see inside the body.
But the security agent saw something on the screen, and after Morris saw it, he called his doctor the next day.
"To be screened like that, then have the blood test and be away to the races with treatment, is amazing," Morris said. "I have a clean bill of health now, and I'm grateful every day that I'm able to do things again. I went ice fishing the other day."
Morris first joined Local 1907 in British Columbia, working in heavy infrastructure. During his illness his father-in-law passed away in Lac La Biche, Alberta. Morris and his wife, Mavis Berland-Morris, moved there and James has transferred to Local 1325.
"Now I really want to get back to work," Morris said.
Meanwhile he looks for opportunities to tell his story. He shared it with many when he attended the Journeyman Leadership Program in Las Vegas recently. "I realize now that the symptoms were there—I was short of breath and there was blood in my stool. But I didn't notice them, and I didn't like going to the doctor. Now I'm trying to be proactive to open people's eyes about screening. Our health is so important."
Just please, get your screening in the doctor's office, not at the airport.
March is National Colorectal Cancer Awareness Month. Visit www.ccalliance.org for information.